I
saw a couple of really great concerts this week.
First, on Wednesday, "

Twist and Shout : The British Invasion

" at the Kings Wharf Theatre in Penetang. It's a nostalgic trip back to the Swingin' Sixties. Peace and Love, Baby!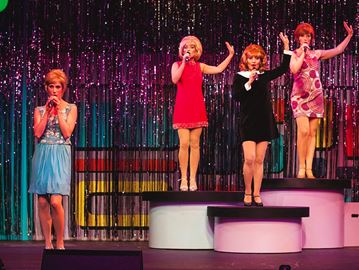 Laura Mae Nason (from left), Jennifer Kee, Valerie Stanois and Lindsay Croxall perform in "Twist and Shout."
There's just one group of talented musicians and dancers who start the 2 hour show off as
The Beatles belting out She Loves You, From Me To You, I Wanna Hold Your Hand. Then they morph into everyone from Petula Clark, The Searchers, Gerry and the Pacemakers, Dusty Springfield, The Kinks, Lulu, the wonderful Shirley Bassey, The Hollies and The Rolling Stones.
Remember the Freddie dance... from Freddie and the Dreamers?
And the unforgettable Donovan, who seemed to be high on a little more than just music, man. They call me Mellow Yellow.....
The concert marks the 50th anniversary of the Beatles first visit across the pond.... was it really that long ago? Lots of grey hair in the audience, but of course ..... this was our music, the music we grew up with, the music that shaped our generation. The final number that got everyone dancing in our seats: The Beatles Twist and Shout and Lulu's Shout! It was groovy, man.
I'd hardly recovered from Twist and Shout when, on Friday, a trip to the Markham Jazz Festival and a free concert by C
anadian icon

Bruce Cockburn

at the outdoor band pavilion. Bruce had his trio... percussionist Gary Craig and violinist Jenny Scheinman with him. Jenny opened Bruce's concert with some of her own songs, accompanying herself on violin and mandolin.
Sorry, blurry photo, I was about 10 rows back from the stage. Bruce has been singing and performing for getting on for 50 years, and he's still great. My favourite Bruce Cockburn song? Lovers In A Dangerous Time. um.... no, I liked If I Had A Rocket Launcher. And of course Wonder Where The Lions Are. Loved this concert, especially the price!